Marina
Our Vaca Key Marina: A Port to Call Home
Not all docks are created equal; and when it comes to marinas in Marathon, one option stands out. With contemporary facilities run by experienced dock staff, Marlin Bay will care for your boat while you care for yourself. We'll have everything in order when it comes time to push off.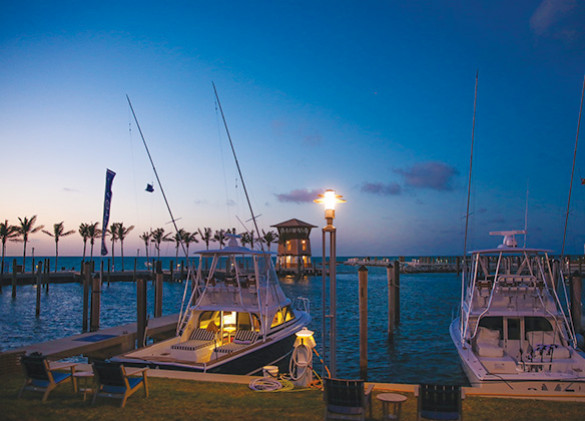 What Separates Us
From the Fleet
Boat Lifts Now Available!
Monthly, seasonal and annual rentals
for vessels up to 20,000 pounds and 35' LOA
Professional Dockmaster
Dedicated staff for dedicated sailors.
Bay Access and Great Fishing
Tonight's dinner is just a cast away.
Protected Inner Harbor
Rest easy knowing your boat is, too.
What Separates Us From the Fleet
Clubhouse and Fitness Center
Keep yourself seaworthy with some deserved R&R.
Pool Bar
Go for a soak and sip your favorite cocktails.
Fish Cleaning and BBQ Grill
Prepare the perfect fish filet and savor a seaside dinner.
Steam Room and Sauna
Melt away your worries after a long day at sea.
Resort Pool and Hot Tub
Complimentary onSpot Wi-Fi
Rental Rates

Seasons
Sept. 28 - Dec. 15
Daily (up to six nights): $2.75
Weekly (7-28): $2.20
seasons
Dec. 16 - Dec. 31
Daily: $4.00
Weekly: $4.00
seasons
Jan. 1 - Sept. 3
Daily: $3.25
Weekly: $2.60
Please Note
Please Note
The daily and weekly rates are calculated based on the LOA of your vessel, and charged per day. Marlin Bay's slip rental rates are subject to change, so please contact us directly for a quote by clicking on the Reserve Slip button.

We offer 30 and 50 amp electrical service, charged as a daily flat fee for daily and weekly rentals.

Deposit Requirement & Cancellation Policy
Deposit Requirement & Cancellation Policy
Deposit Requirement
Daily: One night's stay
Weekly: One night's stay
Cancellation policy
Daily: Three days
Weekly: Three days
Directions
From Bayside
Our Coordinates | 24° 42' 57", -81° 5' 20"
Head southwest down the Intracoastal Waterway. Round Daymark 17 — it flashes green every four seconds — and adjust your heading to 160 degrees magnetic. Sail approximately 1.3 miles.
Directions
From Oceanside
Our Coordinates | 24° 42' 57", -81° 5' 20"
Navigate north through Moser Channel to the Intracoastal Waterway. Head east, and round Daymark 19 — it is unlit. Adjust your heading to 112 degrees magnetic, and sail approximately 1.77 miles.